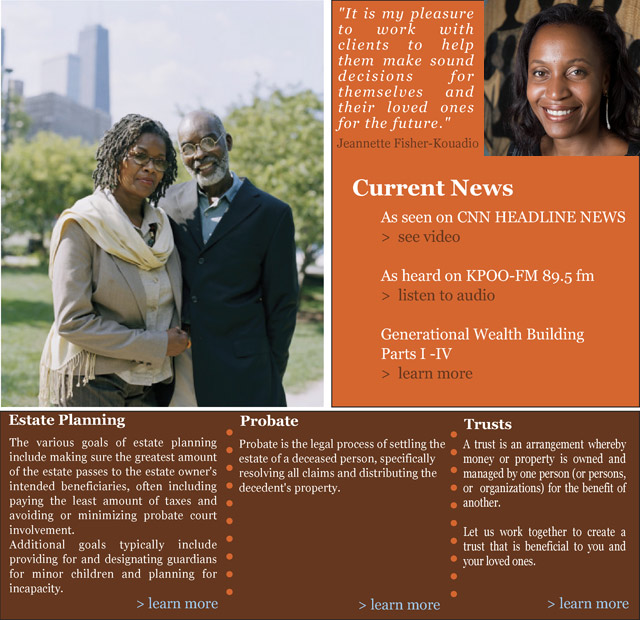 [close]
Trusts & Estate Planning
Planning your estate or talking about death and discussing your legacy with your family as uncomfortable as it may seem, will not bring the day closer but instead will give you a soothing peace of mind. In fact that is exactly how I refer to what is commonly known as a basic estate plan - the peace of mind plan.
A "Peace of Mind Plan" consists of five important components namely,
(1) an irrevocable trust (avoids time constraints, legal costs and family fighting involved in probate);
(2) a pour-over will (safety net for property left outside the trust);
(3) a durable power of attorney for finances (enables a trusted individual of your choice to handle your financial affairs when you are unavailable to do so);
(4) a durable power of attorney for healthcare (enables a trusted individual of your choice to handle your medical affairs when you are unavailable to do so); and
(5) an advance healthcare directive (provides instruction for end of life decisions such as life support, organ donation, burial/cremation arrangements).
Lessen the potential Estate & Gift Tax Bite of 46-55%
[close]
Probate
Probate is the court supervised distribution of your estate or all assets to which you hold legal title to your heirs.
Probate proceedings are costly and time consuming; they can take seven months to two years or more to complete.
For example, in San Francisco a home priced at $700,000, could incur up to $76,000.00 in fees before your heirs could inherit the net proceeds. This does not include court fees, extraordinary costs or the personal expense of family infighting.
Home valued
Professional Fees
@ $700K
@$600K
@$500K
Attorney
17,000
15,000
13,000
Personal Representative
17,000
15,000
13,000
Real Estate Agent (6%)
42,000
36,000
30,000
$76,000
$66,000
$56,000
Despite popular belief, having a will DOES NOT avoid probate.
Heirs may fight and permanently devastate our family structures
Each lineal heir (your children or your brothers and sisters) has equal say so in your or your parents' estate in probate proceedings.
For further discussion of the importance of having at least a Basic Estate Plan to avoid the high costs and time- consuming nature of the probate process; the resulting family disputes and devastation that often occurs in the absence of an estate plan, and to provide incentives and guidance to heirs (see full article at:
www.meenanewspaper.com
.